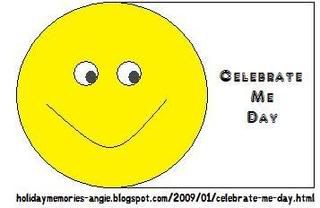 It's Time To Celebrate Me Day!
What is Celebrate Me Day?
It's the day once a month you spend pampering or doing something for yourself.
What day is it?
It's the same day as your birth date!
So since my Birthday is June 14, my Celebrate Me Day is the 14th of every month!
Join Me!
Today is my Celebrate Me Day.
I'm sick.
Not really able to do much. But, I'm going to go to my mom's this evening and she's making Chicken & Biscuits for dinner, which is one of my favorite meals. Yummy. So she'll be cooking dinner for the family, so it gives me a break for today. So I'm celebrating Me Day by not preparing dinner. Not much for my first Celebrate Me Day. Hopefully next month, I'll be able to pamper myself more. Maybe tonight, I'll soak in the bath tub. I'll update later...