This is my second year doing my own Christmas photos for our Christmas Cards. Last year, using my green screen I sat the boys down and snap a few pictures. It was a little hard, not as hard as going to the photo studio, but still hard to get the kids smiling, looking at the camera, holding still and not crying...I took snap shot after snap shot and this is what I got.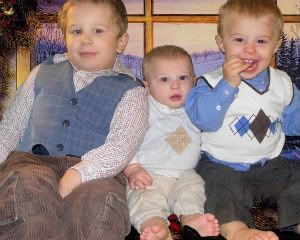 So this year I took a picture of each kid separately...

Tristan

Brayden

Jayden

Then using the green screen wizard software I bought last year and
using the right image I found using Google Images, I
did each child separately.
and, here is this years final photo...
I ordered and 8x10 for us and wallets to put inside the cards.
Westcott Photo Basics 9' x 10' Green Screen Cotton Muslin Background
Westcott Green Screen Digital Photography Kit